World markets: Italy takes center stage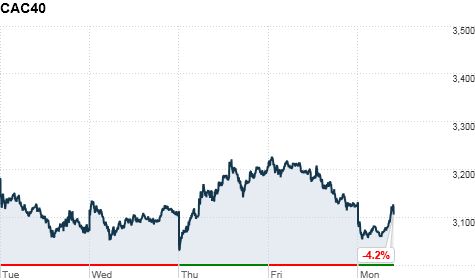 World markets were choppy Monday following speculation that Italian Prime Minister
Silvio Berlusconi
could be on the verge of resigning.
Read More
Why Italian sovereign CDS has left the banks behind
In a note on Friday, credit strategists at Citi noted
the widening gap between the CDS spreads
of European financials and their sovereigns, and went so far with it as to use the D-word: decoupling. Decoupler #1 being Italy, driven in no small part by the increasingly desperate need of banks to hedge against the sovereign, i.e. "silo trading".
The series that Citi use to illustrate the decoupling are the Markit iTraxx SovX Western Europe and the iTraxx Europe Senior Financials. Graphing the two from the start of the SovX's existence:
All American Investor
CNBC Bonus Bucks Answers for Monday, November 7, 2011
Berkshire Hathaway Operating Earnings Rise 37%
Operating earnings at
Warren Buffett
's Berkshire Hathaway increased by 36.8 percent to $3.81 billion in the third quarter.
A reported "loss" of $1.59 billion for Berkshire's derivatives positions, however, contributed to a 23.8 percent drop to $2.29 billion for the company's net earnings.
Braving the primary markets, EM edition
Emerging market borrowers: take cover and brace yourself. As the eurozone
crisis intensifies
, don't bank on a typical risk-off environment but on a Lehman-like disruption in financial intermediation that will impose a liquidity premium on pretty much everything. Rising premia and vanishing liquidity in sovereign and bank funding markets could set off a chain of credit events that will leave few stones unturned.
Defiant Carlos the Jackal on trial in France
A defiant and smiling
Carlos the Jackal
, one of the most dreaded terror masterminds of the Cold War, went on trial again on Monday - this time over four deadly attacks in France nearly three decades ago.
Alzheimer's Disease -- The Front Row
Knowing that the day is coming when your loved one -- won't know you-- is the most horrific feeling of them all for an
Alzheimer's
caregiver.
Original content Bob DeMarco, All American Investor