IBM's Watson Gets Wall Street Job After 'Jeopardy' Win
International Business Machines Corp. (IBM)'s Watson computer, which beat champions of the quiz show "Jeopardy!" a year ago, will soon be advising Wall Street on risks, portfolios and clients.
Citigroup Inc. (C), the third-largest U.S. lender, is Watson's first financial services client, IBM said yesterday. It will help analyze customer needs and process financial, economic and client data to advance and personalize digital banking.
IBM expects to generate billions in new revenue by 2015 by putting Watson to work. The technology giant has already sold Watson to health-care clients, helping WellPoint Inc. (WLP) and Seton Health Family analyze data to improve care. IBM executives say Watson's skills -- understanding and processing natural language, consulting vast volumes of unstructured information, and accurately answering questions with humanlike cognition -- are also well suited for the finance industry.
Read More
iPad dispute signals new era in trademark troubles
iPotato, isock, icouch, istove, i-you-name-it. An Internet search for "i'' words from A to Z will turn up just about any combination you might think up, from all over the world, only a handful of them related to Apple Inc.
Given its penchant for "iproducts," Apple's current troubles in China over the iPad trademark are not its first, and are unlikely to be its last. China's importance as a major consumer market is bringing fresh headaches for companies, and even celebrities, seeking to protect and claim brand names. That's apart from the usual problems with piracy and other infringements.
Read More
All American Investor
Stocks headed for pullback?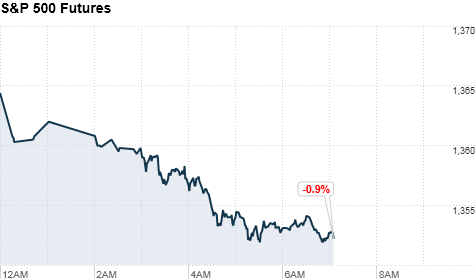 7 AM
U.S. stocks were poised to open lower on Tuesday, as world markets sold off amid economic growth worries in China and Europe.
Potential cost of a default by Greece: 1 trillion euros
A disorderly Greek default would cause more than a trillion euros ($1.3 trillion) of damage to the euro zone and could leave Italy and Spain dependent on outside help to stop contagion spreading, the main bondholders group has said.
Greek private creditors have until Thursday night to say whether they will participate in a bond swap that is part of a bailout deal to help it manage its finances and meet a debt repayment on March 20.
Read More
Assurant Direct-Backed Protect Your Bubble Launches In The US, Wants To Insure Your Mobile Gadgets, Pets, And Trips
"Small things in our lives are important to us. Our pets are important. Travel is important. It's the small thing that means everything."
That's what Stephen Ebbett, President of Protect Your Bubble, told me in a phone interview last week. And I agree. The little things are important and worth protecting.
Protect Your Bubble is probably a new name to most Americans but the Assurant Direct company launched in the U.K. in 2009 where it now insures 400,000 consumers. Starting today the service is available to US consumers as well. This version of Protect Your Bubble is slightly different 'cross the Pond. Here in the states the company promises "simple but comprehensive" plans for gadgets, pets and trips.
Read More
Apple iPad 2 Tablet (16GB, Wifi,) NEWEST MODEL
Original content Bob DeMarco, All American Investor